Biography

Warnfried Altmann was born in 1958. He studied saxophone as a main subject at the Musikhochschule Dresden and then worked for some years in various big bands. Since the early 1980s he plays in various jazz formations and also composes. His main field of work is improvisation, which brings him together with artists of different areas: dancers, visual artists, pantomimes, authors of poetry and prose and publicists.
Warnfried Altmann teaches improvisation at the Otto-von-Guericke-Universitaet in Magdeburg.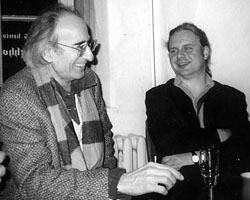 Peter Rühmkorf and Warnfried Altmann
His music has been broadcasted on both radio and television; it is also recorded on, so far, six cds. His many concerts take him through all of Germany and abroad. Altmann stayed n Tanzania for some time to study the music there.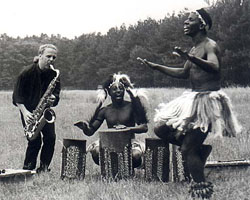 Hakuna Matata - Trommeln, Gesang, Tanz