"wangelin songs"
warnfried altmann trio
warnfried altmann - saxophone, vocal
andreas willers - guitar
willi kellers - percussion, vocal
recorded 2016 in wangeliner garten
nemu-records 018

"der augenblick ist mein"
lieder von thilo von westernhagen
monika von westernhagen - mezzosopran
oliver vogt - piano
warnfried altmann - saxophone
recorded 2014 in kulturgut dönkendorf

"zwischendeck"
martin rühmann band
martin rühmann- composition, lyrics, vocals, guitar
gören eggert - percussion
lars düseler - bass
dirk rudolf - git, tr
carsten apel - acc.
max heckel - violin
warnfried altmann - saxophone
matthias geisse - piano
recorded 2014 in magdeburg

geritten - hänger und laster
thomas wagner - gesang, gitarren, percussion
warnfried altmann - saxophone
recordet 2013 in wangelin



amadeuskomplott - freche romanzen
buch und cd
philhamonisches streichquartett sachsen - anhalt
yoichi yamashita - violine
marco reiß - violine
ingo fritz - viola
marcel körner - violoncello
warnfried altmann - saxophon
ludwig schumann - texte

... und weitere gäste
recordet 2011 musicART oliver vogt, magdeburg



zwei und frei
konzert für saxophon und schlagwerk
warnfried altmann - saxophone
hermann naehring - schlagwerk
recorded 2009 in regenmantel



gefluegelte pforte
bestellung@soederland.com

live-mitschnitt eines konzertes in der reihe "jazz in der kammer", freie kammerspiele magdeburg, 2003
warnfried altmann, saxophon
claus bantzer, piano
hermann naehring, percussions
erzählung auf dem cover: ludwig schumann

mehr Infos...
die prinzessin-files – soederland.com
bestellung@soederland.com

komposition und ausführung: warnfried altmann (tenor- und sopransaxophon), hermann naehring (percussions, marimbaphon, vibraphon)
texte, geschrieben und vorgetragen: ludwig schumann

mehr Infos...
Keine Gewalt. Improvisierte Musik – No Violence. Improvised Music
Warnfried Altmann, saxophone; Hans Guenther Wauer, organ.
musicART MA 94 003 CD


.
Ich brenne und ich werde immer brennen – I'm Burning And I Will Always Keep Burning
Poetry by Elisabeth Graul
Joerg Dathe, speech/vocals; Three Countries' Quartet: Hans Christoph Winckel, double bass; Peter Koch, cello; Warnfried Altmann, tenor saxophone; Bernd Born, baritone saxophone and clarinet.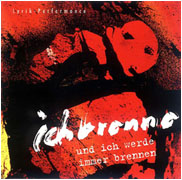 .
Seismogramme. Lese-Konzert für Wort, Orgel, Saxophon und Schlagzeug – Seismograms. Reading Concert For Speech, Organ, Saxophone and drums
Live in Magdeburg Cathedral, July 27th 1997
Friedrich Schorlemmer, speech; Warnfried Altmann, saxophone; Prof. Hans Guenther Wauer, organ; Hermann Naehring, percussion.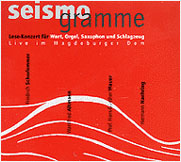 .
Hakuna Matata
Warnfried "Safi Sana" Altmann, saxophone; Ndahani Bwani Zawose, thumb piano, seze, vocals and drums; Cassius Mlewa Maganga, marimba, drums and vocals; Amiri Rajabu Mkufya, marimba, drums, vocals and dance.
With a booklet text by Bert Noglik.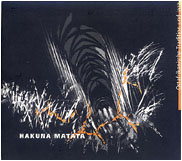 .
Den ganzen Tag Frosch – Frog All Day
Mini cd
Narrator: Ludwig Schumann; Frog: Knut Mueller; Princess: Sybille Rasmussen; Cousin: Anna-Marie Isolde Kuehn; saxophone: Warnfried Altmann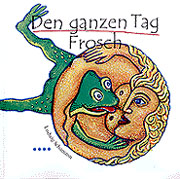 .
Kreuzwege – Crossroads
Suite in 9 parts for 1 saxophonist and 2 percussionists
Hermann Naehring, percussion, marimba; Warnfried Altmann, tenor saxophone; Albrecht Riermeier, percussions, drum set, vibes.
Compositions:
Parts 1, 2, 4-7 and 9: Hermann Naehring
Part 3: Warnfried Altmann
Part 8: Albrecht Riermeier
2001, produced in the ARP studio Albrecht Riermeier